RESTAURANTS IN TROGIR
There are a lot of nice restaurants and bars in Trogir.
Here are a couple.
Most of the restaurants opens at 10 am and are open until 12pm.
Coffee shops opens between 7-9 am and stays open until late night.
ALKA Restaurant - Obrov 10, Trogir Center
In the heart of Trogir you will find restaurant Alka, that offers a delicious continental menu
and fish specialties.
KAMERLENGO Restaurant - Vukovarska 2, Trogir Center
Kamerlengo offers all kinds of meat, fish and Dalmatian food.
Grilled fish is their specialty.
CAPO Restaurant & Bar - Trogir Center, southern port
A cozy family restaurant. Well known and recognized as "something different".
FONTANA Restaurant - Trogir Riviera
Fontana offers various types of fish specialties and a full continental menu.
LUCICA Restaurant - Ciovo, close to ACI Marina
Lucica is located on the island Ciovo. They offer traditional Dalmatian specialties
and a wide selection of pizzas.
THE END Restaurant - Matije Gupca 10, Trogir Center
A cozy Italian restaurant in the center of Trogir.
St.DOMINIC Restaurant - Pizzeria - Cocktail bar - Trogir Riviera
Daily choice of fresh seafood,. exotic pizzas, pastas, cocktails,
jazz music and friendly atmosphere.
Open until 03 am
SMOKVICA Bar & Café - Radovan Trg 9, Trogir Center
The meeting place for all generations, you will find behind the cathedral.
An espresso in the morning, or a drink in the evening to live music.
Open from 07 am until 03 am

INTERMEZZO Bar & Café - Trogir Riviera
This is the party place in Trogir. A must for all who want an active night.
Open until 03 am
KORADO bar - Trogir Center
Cocktail bar with delicious drinks!
Open until 03 am
Map over Trogir and its bars and restaurants.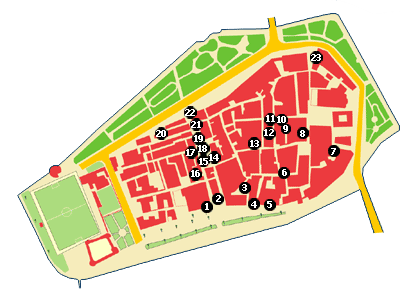 | | |
| --- | --- |
| 1. Sv.DOMINIK - Fish, pizza | 13. MONIKA - Fish & meat |
| 2. FONTANA - Fish & meat | 14. JAMBO - Pizzeria |
| 3. DISPET - Italian, pizza | 15. TOP BALOON - Pizzeria |
| 4. MIRKEC - Pizzeria | 16. KAMERLENGO - Fish |
| 5. KORNIZA - Italian, pizza | 17. ALKA - Fish & meat |
| 6. CAPO - Dalmatian food | 18. KRISTIJAN - Italian, pizza |
| 7. ELF - Meat, pizza | 19. DON DINO - Pizzeria |
| 8. MIRAKUL - Pizza | 20. PASIKE - Fish & meat |
| 9. THE END - Italian, pizza | 21. TOMA - Dalmatian food |
| 10. MARIJANA - Fish & meat | 22. SKRAPA - Dalmatian food |
| 11. SVES - Fish & meat | 23. SLAVEN - Pizzeria |
| 12. TRAGOS - Fish & meat | |